Vembanad Wall Putty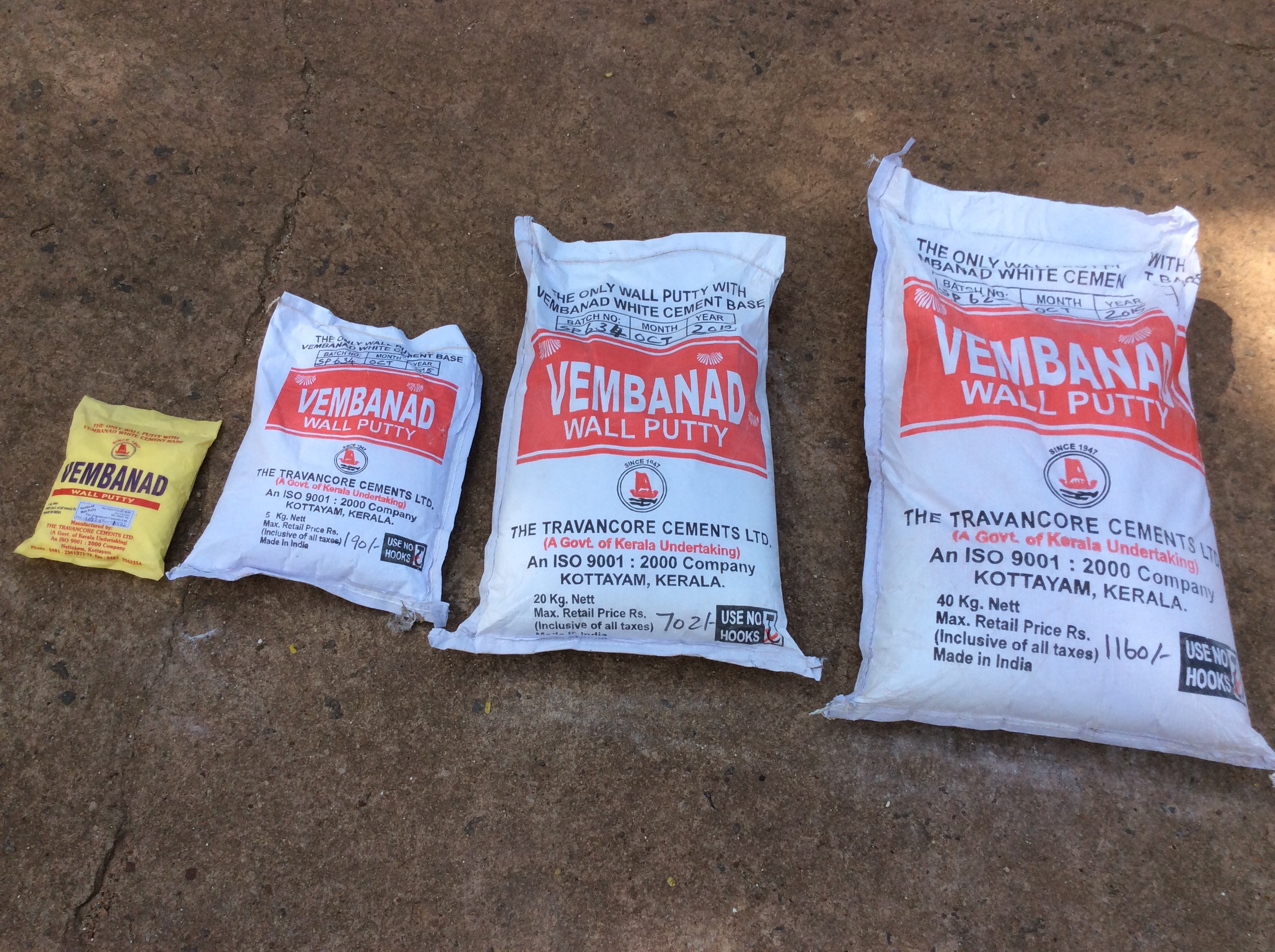 Area of Application
1. All type of plasters and concrete wall
2.Ceilings
3. Aerated light- weight blocks
Benefits
1. Ready-to-use
2. Easy applicability & self curing
3. Excellent efflorescence resistance
4. Smoothen the wall with excellent finish
5. Decrease paint consumption.
6. Enhance bindings of the paint with the wall
7. Excellent resistance to water
8. Good adhesion and tensile strength
9. Highly durable & suitable for all types of paints
Technical Specification
| | |
| --- | --- |
| Appearance | White Powder |
| Compressive Strength @ 28 Days | 38 Kg/sq.cm |
| Setting Time (minutes) | |
| Initial | 310 |
| Final | 405 |
| Pot life of thinned material | 2 to 3 hrs. (Temp. 30 c, h 65 %) |
| Dry for Recoat | 6 to 8 hrs (temp. 30 c, h 65 %) |
| Shelf life | 1 year |
| Tensile Adhesion test- 28 days | 3.73 Kg/cm2 |
| Water retentivity test(%) | 98.94% |
Surface Preparation
Remove all loosely adhering material from the wall surface with the help of emery stone, putty blade or wire brush and clean water. The substrate should be clean, free from dust, grease and loose materials. Dry and absorbent surfaces should be moistened with sufficient quantity of clean water. After plastering allow to dry the surface at least 8-12 weeks for new walls.
Mixing of Wallputty
Mix VEMBANAD wall putty with 30-35 % clean water slowly to make a paste. Continue the mixing for 10-15 minutes till a uniform paste is formed. It should be used within 2 to 3 hours of preparation. Mixing may be done manually or by using a suitable electric mixer.
Application
Ensure that surface is totally clean. The surface should be moderately rough and in just wet condition. Apply 1 st coat of VEMBANAD wall putty using a blade on the wall with a bottom to up configuration. Apply 2nd coat of VEMBANAD wall putty preferably after 10 hours in summers and 12 hrs in winters. Make sure that the wall is perfectly dried before applying second coat. Second coat shall be applied horizontally to even out application marks of 1st coat, if any. The total thickness of the coats should be limited to maximum 1.5 mm. Always prepare a required quantity of putty and use it within 2-3 hrs of mixing with water. Allow complete drying for 3 days and then use a fine emery paper (not less than 500 numbers) to remove application marks, if any.
Precautions
Use the thinned mixture within 3 hrs. The total thickness of the 2 coats should be limited to maximum 1.5 mm. Wall putty should be done over fully cured surface. Avoid inhalation during mixing and handling.
Coverage
12-18 sq.ft (This varies as per porosity and texture of the surface.) Packing: 40 Kg, 20 Kg, 5 Kg & 1 Kg
Shelf Life And Storage
Shelf life is one year from the date of manufacturing. The material should be stored between 5° C to 40° C and avoid exposure to sunlight.
Health & Safety:
VEMBANAD Wall putty is not hazardous. It should not be swallowed or allowed to come into contact with the skin and eyes. Protective gloves, Nose mask and goggles should be worn. Contact with skin for long tenure should be avoided. In case of contact with the eyes, it should be rinsed immediately with plenty of water and medical advice sought immediately.
Fire:
VEMBANAD Wall putty is nonflammable.